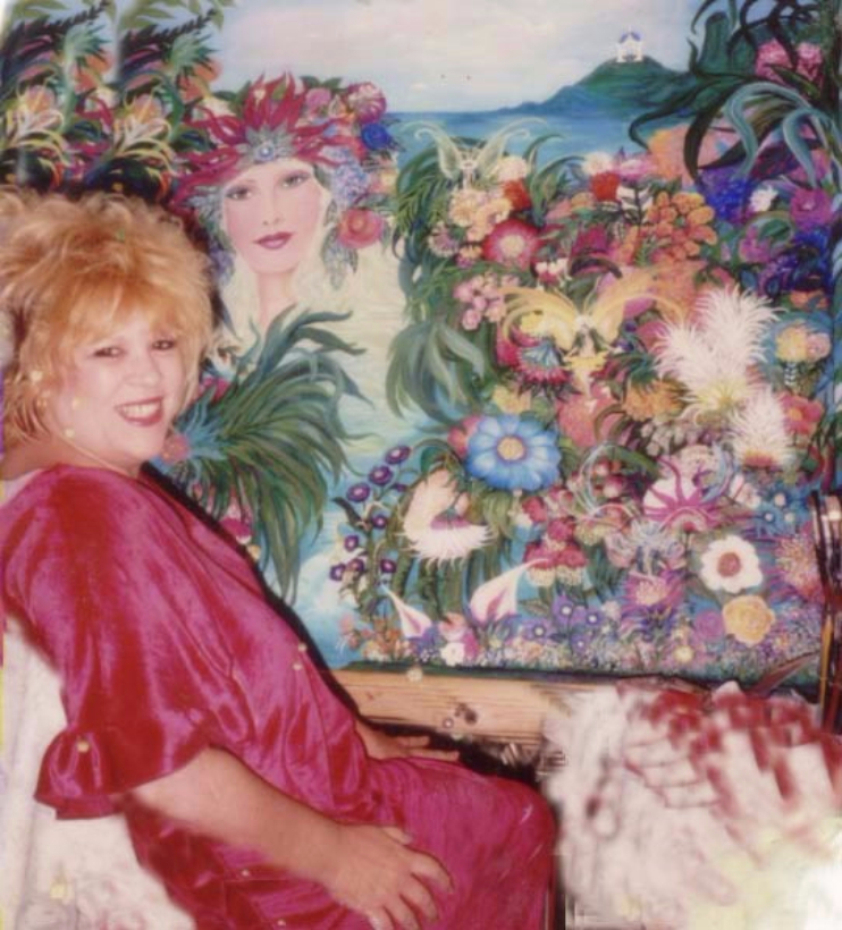 1998 Here I am with my unfinished painting called A Visit to Fairy Land Scroll down.
Hello and welcome to my website. I am a self taught artist who was born in Long Beach, California January 7, 1950. I am working on this site so drop back sometimes for new work. Here is a little bit about me. Thank you for going through it, I have ended up making it all about my life to leave behind for my grandchildren and whoever wants to see it. I am sure having fun making it and going down memory lane.
One day as a child, my mom set up a easel and she was painting an oil painting and asked if I would like to try it. She gave me all her art supplies after she saw what I did. I won a regional contest for a painting I did of Mahatma Gandhi when I was 11 years old, he was a inspiration to me even then as a peace activist. I painted a painting of Jesus praying in the garden and I drew lots of Indian children and babies, animals and even cartoons were fun to do.
I became a fantasy artist in my teens when I got married and had my children, Andria and Adam by 19. I am also a writer of books for children and poetry which are here to read. I do sculptures called the Elfun's and the Whimsey's, create building design concepts, logos, murals, etc. I will be adding my large paintings here soon. Please bookmark me and come back!



I have had many art shows worldwide, huge visionary art shows in California at the Whole Life Expos and also put on by Atlantia created by Abraham with the top visionary artists in America where I was one of the featured artists. One show, called Seven Days of the Goddess was nothing less than a phenomenon in the history of art shows in Los Angeles. I have had many one woman shows and shows in a museum in Germany both in Hamburg and Berlin. I have shared my art with thousands of people in Los Angeles, San Francisco, Holland, Maui, Canada, Italy, and Germany
.

I work in many mediums including acrylics, water colors, oils, pen and ink, pastels, pencil, and even spray paints! I love to create different styles, it is fun to see what comes with different moods I am in. I am inspired by God Goddess and all the beauty from the Creator. I have been a fantasy artist since my teens. I love it. Being totally free to create from my imagination without limitations..allowing the creator to create through me as he does with all artists I believe. Bringing new visions to the world of fantasy and imaginary places.



I am also an international face and body painter, I have painted at least 3000 people. I have been very fortunate to paint at many stars parties like the time with Jack Nicholson who gave me the high sign (fun story there) and many more. Some of my smaller art pieces are in the collections of Elizabeth Taylor, Barbra Streisand, Shirley Mac Claine, Carrie Fisher, Julie Andrews, Prince Albert of Monaco, Tracy Ulman, and Olivia Newton John and hundreds of wonderful and beautiful people that have bought my art..I am so, so grateful, that they did and that what I made is part of their world, I go on through my creations like all artists. If you have one of my pieces I would love to have a picture of it..much of my work went out over the years without being photographed. I would love to reconnect with you too!
BIG ANNOUNCEMENT!!! I was just published in an incredible coffee table book featuring 16 of the top fantasy artists. It is just so beautiful.


It is called FANTASY ART COLLECTION Some of the artists in it are Kinuko Craft, Sheila Wolk, Sue Miller, Linda Ravenscroft, Josephine Wall, Jody Bergsma just to name a few. Only available at Amazon, Ebay etc. I am sold out. 200 pages of full color fantasy. We all got 16 pages. So please enjoy your time here, I know there is a lot to see so keep it and come back!
Blessings and Peace to you and your loved ones,
Christine Von Lossberg
All Rights Reserved. Copyright © 2020 Christine Von Lossberg Legal Notices: All Images on this website are Copyright © Christine Von Lossberg All rights reserved. The material, images, concepts, artwork, ideas or any other original and unique concept or element on this site may not be reproduced and may not be distributed, publicly performed, proxy cached or otherwise used in any manner, without the prior written express permission of Christine Von Lossberg.

L
OVE PEACE HARMONY DIVINE ONENESS

xyz